Wait, I have a blog?
Yes, yes, yes. It's been a long time since I've posted. I know that. I'm sorry. I've had things to talk about, but I've spent most of my time at my collaborative blog. BUT Mr. Ed Cunard recently showed me an easy way to put pictures on the blog, and I am a SUCKER for pictures.
I went with my fiancee and her sister to my hometown in Kentucky for Christmas. We all had a great time (due in no small part to the shortness of our stay). The food was probably the highlight, from my Gran's fried chicken, mashed potatoes (hell, anything she made) to the excellent diner fare here:
The Bluegrass is an old-school greasy spoon with unbeatable onion rings, hot dog sauce (chili to the rest of you), and it's famous "Flying Saucer" burger (two beef patties, special cole slaw, and a slew of other goodness). That last one is the one I'm recommending here: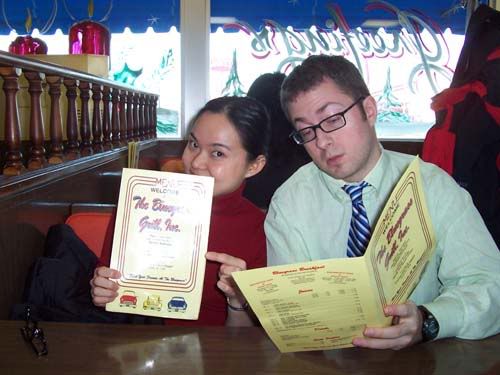 If this doesn't seem amazingly fascinating, please understand that this is also a test run for the picture posting.
But you just can't miss with a New York girl amazed with how gluttonous Appalachian folks shopping at Super Walmart can be.